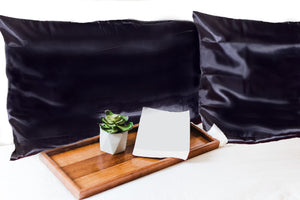 Leave the bonnet off tonight- our satin pillowcase has got you covered!
Sleep in luxury and your hair will love you for it! Our Satin Pillowcases will upgrade your sleep routine and make sure your curls are always poppin! The satin helps to prevent your hair from frizzing, drying and breaking off! Not to mention these pillowcases just look so cute and feel so smooth!  Once you start sleeping with a satin pillowcase you'll never go back!
Our Queen size 20x30 in Satin Pillowcase is larger than the standard pillowcase so it fits most pillows!